Scouse Doris
and I are both slaving away over hot paper. The Mistress of Chocolate has a significant exam to take in the coming weeks and must hone her skills to their utmost. I, on the other hand, may soon be expected to justify at interview why I want to go and work in
the five countries I named earlier
.
You'll note, Mutley, that
Burkina Faso
is not one of them, but actually if it was offered I might not say no. It's landlocked and poor but there are richer seaside places much worse than Burkina Faso, such as, just an example off the top of my head,
Gaza
.
No, if I'm going to be shot dead, I'd rather it was because my work was having an effect and perhaps unsettling entrenched interests, as I have been warned several of my colleagues have met their nemesis, rather than by some random, stray, ricocheting, paramilitary bullet. Of course one can always
be stabbed to death by a random burglar
, but to be honest I nearly got run over on a pedestrian crossing ten years ago here in Belgium on rue Joseph II by the now outgoing
Prime Minister Guy Verhofstadt
at the wheel of his ministerial BMW, so there's danger everywhere really.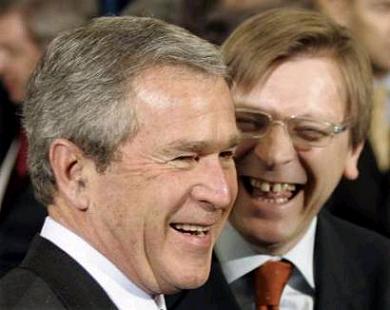 Caption: "Right flustered she was, George, bosom heaving, scurrying across like a startled hedgehog!"